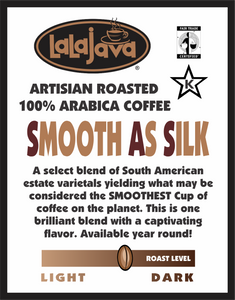 SAS (Smooth as Silk) A select blend of South American estate coffees yielding what may be considered the SMOOTHEST Cup of coffee on the planet (maybe smoother). This is one brilliant blend with a captivating flavor. Available year round! This is our masterpiece, the one that gives you the true Lalajava experience. The SAS Select Blend is the coffee to try if you want to know what we're about. These coffee beans have the perfect ratio of Colombian Supremo coffee beans and coffee beans from Central American nations like Guatemala, Costa Rica, and Honduras. The SAS Select Blend boasts the characteristics you want in a great coffee. It has a bright acidity and a creamy consistency. We have kept it to a very light roast so that you can taste each flavor in every sip of this blend. The full-bodied coffee has notes of cocoa and spices.
Fair Trade Fresh Artisian Roasted 100% Arabica Coffees. Whole Bean or choose from 3 precision ground options.
Customer Reviews
Smooth as Silk coffee.
Great coffee, great shop! We had 2 lbs of smooth as silk coffee ground and delivered to us in Maine. The experience was as smooth as their coffee! Wonderful family business!