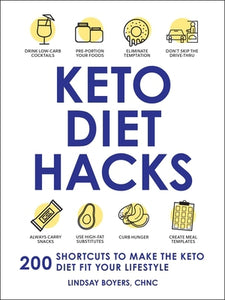 The keto diet is easier than ever with these 200 hacks, tips, and tricks to adapting the keto diet to your lifestyle!
Despite our best effort, not every diet is sustainable. The chances are that the more restricted you feel in your diet, the more likely you will fall back into poor eating habits, no matter what your best intentions are. While the keto diet has been lauded as a wonderful way to lose weight, calm inflammation, and fight some diseases, it can certainly be difficult to stick to.
In 
Keto Diet Hacks
 you will discover 200 tips and tricks to make the keto diet work better for you including:
-Ordering your favorite burger at the drive-thru but skipping the bun and sauce
-Adding butter to your coffee to get more fat
-Freezing cauliflower in muffin tins for easy pre-proportioned meals
-Trying intermittent fasting when the weight plateau hits
-And more!
These simple, clever, and, easy-to-follow keto hacks will keep you feeling healthy and strong so you can experience all the healthy benefits of the keto diet on your own terms.