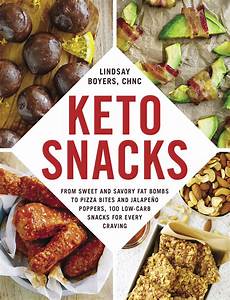 Stick to your keto diet without giving up your favorite foods with these 100 easy-to-make high fat, low-carb snacks.
Starting a ketogenic diet—high in fat, low in carbs—doesn't mean giving up on all your favorite snacks! Instead of eating foods that might prevent you from entering ketosis, you'll need options that will help your body burn fats instead of carbs. You'll find just what you need in 
Keto Snacks
, featuring 100 easy, delicious recipes for sweet and savory low-carb treats. Learn to make "fat bombs"—small energy-filled snacks with low carbs and high fat, like Pizza Balls or Sunbutter Balls. Try other savory keto snacks like deviled eggs or guacamole, or go sweet with some chocolate mousse for dessert!
In 
Keto Snacks,
you'll find yummy recipes for Creamy Rosemary and Prosciutto Baked Avocado, Chorizo-Stuffed Jalapenos, Coconut Almond Truffles, Peanut Butter Cup Cheesecake—and much more! You'll be sure to find a tasty keto snack to satisfy any craving, any time of day!